Designer Spotlight: Grace Minnock
Posted by THE COLLECTIVE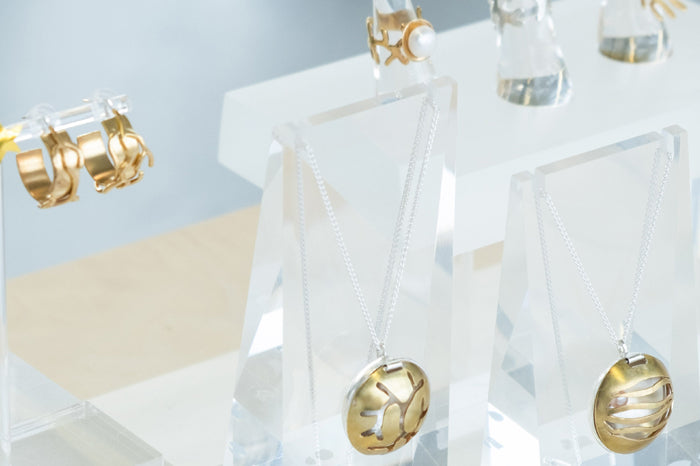 Grace Minnock is a Dublin based jewellery designer and graduate of the National College of Art and Design (NCAD) 2022. Her goal for her jewellery is to be long lasting and sustainable. With a heavy focus on heirloom design, so that her jewellery can last for a lifetime and be passed down generations. It is her opinion that buying well-made, long-lasting jewellery is important to prevent unnecessary landfill waste while still being able to enjoy the pleasure of adorning oneself with these objects.
Grace hopes to create pieces of jewellery that can last a long time and become heirlooms to those who wear them.
Kantha 'Repair' Silver & Gold Plated Brass Drop Earrings €148,00
Finding inspiration in the East Asian Art of Kantha, a form of fabric repair and recycling, Grace's work reflects her endeavour to find perfection through the chaos of repair.
Kantha Freshwater Pearl 'Perfect' Silver Ring €220,00
She is similarly inspired by the Japanese Art of Kintsugi, where ceramics are repaired with gold. Grace's work reflects the sentiment that can be found in healing and growth and an acceptance that perfection does not exist.
Complete In Incompletion Kintsugi 'Hope' Locket Necklace €325,00
Grace works in sterling silver and uses pearls and gold plating on some of her designs.
Collection 2019
Sale 70% Off
Title for image