Beautiful Earrings at The Collective
Posted by THE COLLECTIVE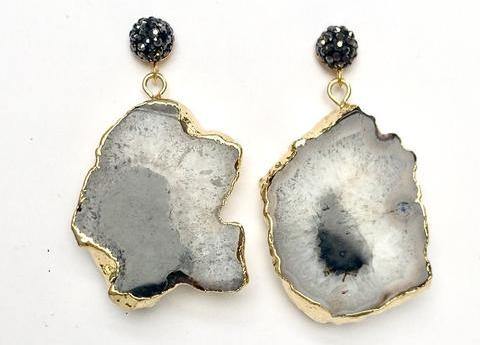 If you're wondering where you can get your hands on some beautiful, stylish earrings in Dublin, then you have come to the right place. We have over 200 pairs of earrings available to browse, from a range of extremely talented designers. 
Jewellery can be the best gift for a loved one or an amazing treat for yourself, and you should never underestimate the effect the right pair of earrings can have on an outfit. Jewellery gives your outfit the finishing touches, so you always look and most importantly, feel polished and well put together! We may be biased, but we believe we offer some of the best earrings Dublin has to offer. 
Searching low to high, you'll see our range starts from just €24.00 for a pair of stunning, sterling silver Butterfly Studs, available in 3 different sizes! If you're looking for something a little more unique, filter by high to low, and reveal our Edgy's L 9ct Gold Earrings available for €975,00. We have earrings to suit every price range, so whether you're on a tight budget or you're splashing out on an investment piece, you'll be spoiled for choice at The Collective!
If you're not sure what style of earring you're looking for, then take a look at a selection of our categories below. With over 30 independent designers, we're confident that you will find the earrings that you are looking for.
Stylish Studs
Stud earrings can be an effortless, everyday addition to your outfit. Our collection includes a range of sizes from delicately small to large statement earrings available in sterling silver, gold plate and solid gold along with an array of bright, vibrant shades to choose from. 
If you're in the market for a matching set, then you'll find several of our earrings pair perfectly with our necklaces, such as this nautical themed cockleshell duo by coastal inspired designer, Jennifer Kinnear.
Dangly and Decadent
Our Dangle Earring range, available from a variety of talented designers, is bound to turn heads. If you're really looking to stand out with a pair of statement earrings, then take a look at designer Aria V's handcrafted selection with the most stunning natural stones. Aria V is one of many designers in house whose designs really offer that 'wow factor' with their beautiful pieces.
See 'Pompei' featured below.
Birth Stones
Whether it's a birthday treat for yourself or a birthday gift for someone close to you, you can never go wrong with a gift inspired by their birthstone. We have a selection of gem themed earrings available at our Dublin jeweller plus, if you're looking to spoil them truly, you'll also find a beautiful range of birthstone inspired Rings and Necklaces.
Take a look at these stunning Dew Drop Earrings in Amethyst, for example, by Gallardo & Blaine Designs. Ideal for those with a February birthday.
Perhaps you're looking for someone a little later in the year? These Iris Earrings in Blue Topaz, also by Gallardo & Blaine Designs are perfect for a November baby.
Of course, if you're not a fan of your original birthstone, select one that speaks to you. Each gemstone has properties within it from healing to confidence building, sometimes the gemstone you need chooses you!
Sustainable Fashion
As we as an industry become more aware and focused on sustainable fashion, you will see this reflected in not only clothing but jewellery too. One of our designers, Aidan Smyth, has introduced an 'Upcycled Lantern Earring' range made from recycled plastic. 
If you're looking to be more sustainable in your fashion choices, then take a look at his lantern earrings available in Green, Red, Blue, Clear and Brown. Their stunning intricate design has wowed staff and customers alike.
Bespoke
If you have something entirely unique in mind and can't quite find what you're looking for, then get in touch with us today. We offer a bespoke service from our in-store studio right here in Dublin.
We always go the extra mile and all jewellery comes beautifully packaged in the designers own branded box and in a beautiful Collective bag.
What's more, we offer free shipping on all orders over €50. Customer satisfaction is at the heart of what we do and we strive to be the most treasured Jewellers Dublin has to offer.
Collection 2019
Sale 70% Off
Title for image