Jewellery for the Masculine-of-Centre Person In Your Life
Posted by THE COLLECTIVE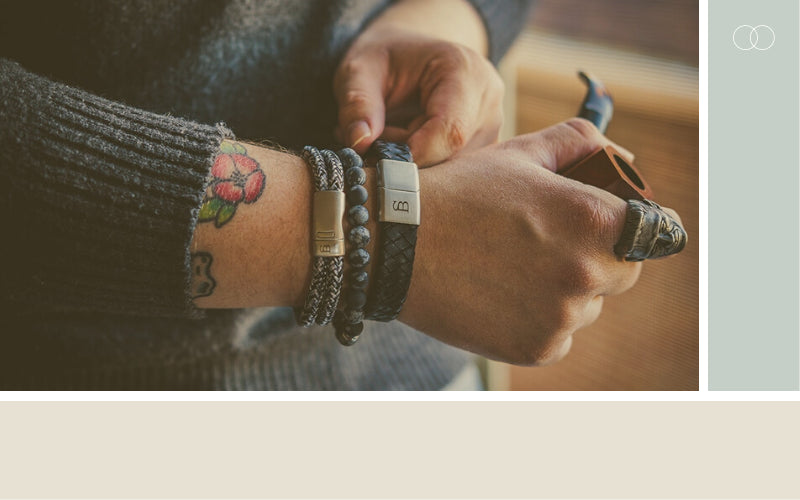 Jewellery for the Masculine-of-Centre Person In Your Life
Here's a confession: I've never really liked jewellery. 
Now I realise this is like a cardinal sin in the world of Working In a Jewellery Shop, but bear with me- I love my jewellery now! It's just that, growing up as a masculine-aligned person, the dainty & sparkly jewellery of my childhood just didn't feel right on me- like a costume, and not the fun kind. Wearing the more traditionally feminine pieces my friends adored just felt like a pretense. 
This was before the full world of jewellery, design and the pieces coming from independent Irish designers was opened up to me. And folks, there's a wealth of options for self-adornment, whether you're a lads' lad, or simply someone who never felt a strong connection to all things dainty & sparkly.
Steel & Barnett are class personified. Their hand-crafted leather bracelets are made for those of us who want nothing more than to retreat to a cabin in the mountains. 
This is a gorgeous modern pendant that you can change with your mood. Taking inspiration and medium from nature, each of these Aidan Smyth pendants are completely unique. 
Caroline Stokesberry's Guardian Ring is a firm favourite. Like all of her work, it's steeped in a love of mythology and would be perfect for anyone who's secretly yearned to live out their days in the Shire. 
Emer Roberts' work is the epitome of tough and pretty. The rat-tail ear climber brings me back to the lads of my youth ("I'm not a rat if you're not a rat"). This one's a perfect choice for the tough-but-sweet, masculine-aligned person in your life. 
For your caffeine-addled boyfriend, or your coffee-snob best friend – these coffee bean studs boast a super clean, minimalist design that make them a gorgeous choice for those of us who like our jewellery like our coffee- simple, smooth and with great taste! 
These Leoma Drew rings are so stunning. They're a beautiful fit for anyone with an aversion to overt sparkle- these quirky stacking rings are black oxidized silver touched with frost. I love that these rings take inspiration from butterfly wings; that something so tough could be inspired by something so traditionally feminine. Think of a cold-bitten night in the city. That's what these rings are.
Authentic Paranoia's cross pendant is, for want of a cooler word, cool. With clean lines and a gothic flair, this pendant is perfect for someone with a rock n' roll sensibility. Pair with a leather jacket and a motorbike to complete the vibe. 
Collection 2019
Sale 70% Off
Title for image