Meet The Maker: Varya Namsaraeva, Founder of Aria-V Jewellery
Posted by THE COLLECTIVE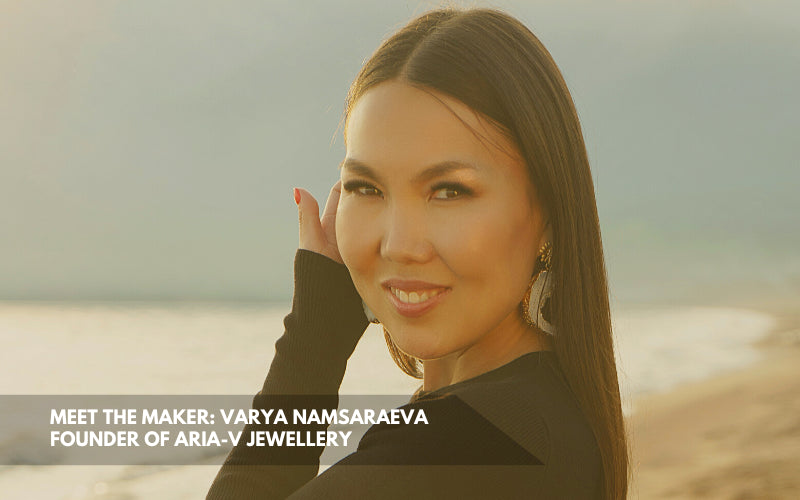 We are incredibly proud to celebrate some of the endless design talent here in Ireland and provide a base for over 30 independent designers within our shop.
Through this Meet The Maker series, we're giving you the opportunity to get to know the creative talent behind your favourite brands at The Collective as they share their journey as creatives, their biggest inspiration and their career highlights. 
Varya Namsaraeva, Founder of Aria-V Jewellery
What's really special about Varya's pieces at Aria-V is that all of her jewellery is designed and individually handcrafted in Varya's Dublin studio using the finest natural stones sourced from around the world. 
"My work is largely inspired by my Mongolian heritage but I draw inspiration from everywhere: travel, nature, fashion and life experiences"
"I came to ireland 16 years ago to complete my masters in business administration and fell in love with this country. I was always creative. Design and fashion were always my passion so after my son Oisin was born it felt only natural to set up own business making jewellery and work from home. I consider myself lucky because my job is something I really enjoy doing. If I could, I would spend all my time sketching and experimenting with new designs, but I have to be practical, there are so many other sides of this business that are equally important but not always as pleasurable. I also enjoy books. At the moment it's mostly audiobooks that I listen while making or walking. Gardening, baking, restoring furniture, anything to do with my hands."
What's your favourite piece of jewellery you've designed or made? 
It would have to be Nebula (€82)
Each geode is hand picked based on their quality and suitable appearance. A cross section of the natural stone is cut and polished. The outer radius of each agate slice is electro plated in 16 carat gold and set on textured hammered brass which is then electro plated in 16 carat gold. The concoction of deep blues and the ouster of gold gives an outstanding elegant statement piece. The entire process is a three day highly skilled craft from raw material to fashion statement. The aptly titled Nebula brings the endearing deep space awe to the human form in a unique and subtle eye catching Irish product.
What inspires you during your design process?
The pieces are inspired by Mongolian heritage, it's all about texture and colour. All pieces are individually designed and handcrafted in the Dublin studio using semi precious and natural stones.
The design process varies from piece to piece to create wonderfully expressive jewelry. Each piece starts as a sketch which is teased for form, function and manufacture; they are then approved. The most important considerations during this process would include; aesthetic representation, quality, wearability and current relevance.  
Who is your biggest inspiration? (In the design world or beyond)
My father, his never ending curiosity and desire to learn. He has five degrees and worked in different fields throughout his life, always striving to be better. He is also a very talented craftsman. My very first piece of jewellery was created under his supervision out of multicoloured plastic cables intertwined together.
What do you feel is one of the biggest misconceptions about the jewellery/design industry?
I think one of the biggest misconceptions is that natural stones/gemstones are never treated or enhanced. The majority of natural stones are treated either with heat or natural dyes to enhance their appearance. There's nothing to worry about, as many of these treatments have been around since ancient times and are a normal practice.
If you weren't a designer, what would be your dream job?
I would have a carefully curated shop filled with artisan made products
What advice would you give to someone thinking about becoming a jewellery designer?
Believe in yourself and your work. Design process and inspirations will evolve with time and experience. Every piece has its client
What's been a real pinch me moment in your career so far?
To be shortlisted for Irish Made awards last year
Collection 2019
Sale 70% Off
Title for image