Peep our Homeware & Lifestyle Edit at The Collective Dublin
Posted by THE COLLECTIVE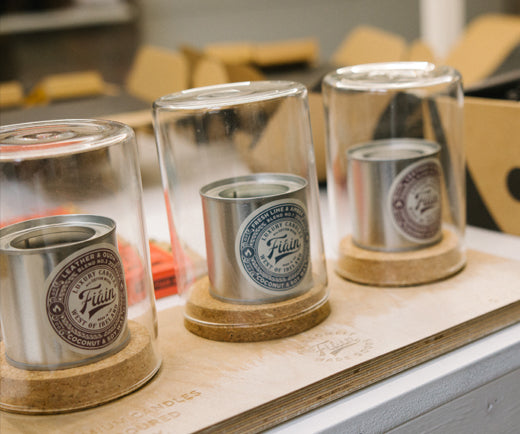 If jewellery isn't your thing, don't worry, there's still lots of homeware and lifestyle gifts to explore here at The Collective. 
At The Collective our passion for handmade doesn't just begin and end with jewellery. We believe in supporting thoughtful design in many mediums. That's why we want to shine a light on our lesser known product ranges. From scented candles to art prints, there is so much more to discover in store.
It's our belief that there is a lineage of love from maker to user creating an invisible thread of joy to the lives of our customer. Nowhere is this more evident than in the work of Marabay Deco. Hand made in Ireland, maker Rachel Towey walks the shores of Connemara collecting sea shells which she hand paints using decoupage and custom prints. Her lidded oyster shells with their painted gold surface make a delightful trinket box bringing a touch of Ireland's wild West to your bedside table. Her wall hanging pieces in both classic and festive prints make for a unique sustainable gift.  
We believe that exceptional design can be a part of our everyday lives so why not start your 'made with love' collection with one of Etaoin O'Reilly's beautiful wheel-thrown mugs. Etaoin is an Irish Potter making playful, bright and geometric tableware inspired by the Memphis Movement. Her brightly coloured ceramics are sure to brighten up any tea time and make the perfect gift for your friend whose tea-time ritual needs an extra-special mug.
For something unusual and indeed unexpected, Italian makers Miho Unexpected create sustainable wall hangings and small storage pieces that bring an eye-catching accent to any living space. Offering two gifts in one, their bird & flower décor are a fun craft project to build and the final result is a unique and striking piece of wall art. With their whimsical and magical moving parts revealing secret spaces and hidden mirrors Miho Unexpected makes a great gift for budding crafters and children's rooms décor. 
Fiain, pronounced 'Fee-awn' is a grooming and lifestyle brand from two Galway natives, Dara and Caitriona. With a distinctly masculine and ole world aesthetic. Fiain, meaning wild, makes a great gift choice for those that prefer gifts to be practical with a modern twist . Here at The Collective, we stock a wide range of Fiain products including home fragrance, body soaps and formal accessories.
We like to think of The Collective as a treasure trove of eclectic design with something special to suit every taste. Whether you're shopping for candles or ceramics we've done the hard work for you by sourcing the very best of makers catering for home and lifestyle. To take a closer look and discover your own treasure,  join us for our Customer Shopping Event on Thursday Dec 8th.  Let us treat you to 10% off purchases made between 4-8pm which sipping on prosecco and nibbling mince pies.
Collection 2019
Sale 70% Off
Title for image