Shine bright: Sun-Inspired Jewellery at The Collective
Posted by THE COLLECTIVE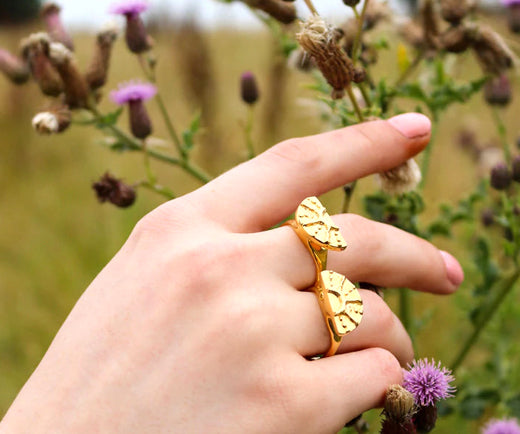 Sun-inspired jewellery celebrates the power and eternal energy of the sun. Symbolic motifs like sunbursts, sunrise, and celestial symbols infuse each piece with the warmth and optimism of the sun.
Wearing the Sun
Whether you prefer minimalist elegance or bold glamour, we have sun-inspired jewellery to resonate with your personal style. Delicate pieces with subtle sun motifs brighten everyday wear, adding a touch of radiance to any outfit. For a bolder statement, intricately designed sunbursts add a touch of brilliance to your style.
The Sun & Symbolism
Beyond aesthetics, sun-inspired jewellery carries deeper meaning. The sun represents positivity, vitality, and warmth. Wearing sun inspired pieces serves as a constant reminder to embrace these qualities. It symbolises renewal, reminding us that each day brings new opportunities and a clean slate.
Let your inner light shine bright and bask in the warmth of these sun-inspired pieces available in store and online at The Collective.
Hand engraved Sterling Silver Sun Pendant set with an Orange Sapphire.
Inspired by the incredible textures found in nature's rocks with the circle signifying the sacred sun. This 9ct yellow gold piece is handmade with care with hand-engraved detail making each piece truly unique.
Watermelon tropical, Sunflower Gold Earrings, €64,00
Gold sunflower dangle earrings made of thick gold plate on sterling silver.
 Alexandra Rae, Forever Rising Ring - Gold, €105,00
Forever Rising sun disk ring can be a reminder to always rise above anything holding you back. There is always another dawn.Sterling silver ring with an 18 carat gold textured centre.
Sandra Hartwieg, The Golden Hour Gold Centre Ring, €290,00
This ring is inspired by the "Golden Hour", that magic hour just after dawn and before sunset that lights up the world with a warm glow. Each piece is individually handmade and embossed.
To shop these pieces and more, visit us at The Collective online and in store.
Collection 2019
Sale 70% Off
Title for image