Spoil Yourself This Christmas with our Luxury Gift Guide
Posted by THE COLLECTIVE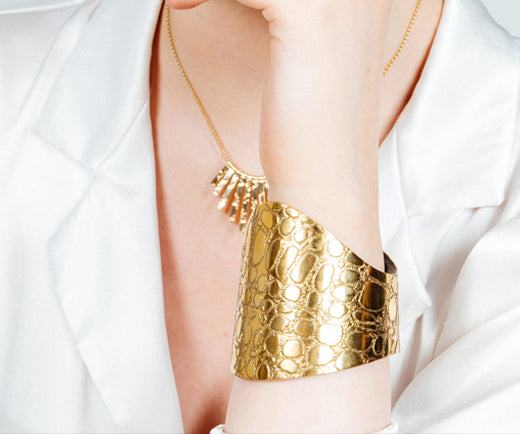 You've had your eye on that piece of jewellery all year long, you've tried it on, you've showed it to your friends, you've even planned entire outfits around it – we know the feeling. Here at The Collective we have our own wish-list full of one day it will be mine jewellery.
So when is it okay to treat yourself? Will we be left hoping for a longed-for gift that never shows up under the tree? We believe you shouldn't have to wait to be appreciated, show yourself some love this Christmas and decide that the best gift you get this year will be from you!
Join us in wish-list euphoria as we share the very best pieces from our luxury gift guide.
Age of Aquaria 9ct Yellow Gold Earrings 
€315,00
We've been starry eyed over COSMIC BOULEVARD'S Diamond Shooting Star Pendant in 9ct Yellow Gold. With its set diamond and hand engraved stars, it's the kind of necklace that makes you feel special as soon as you put it on. Pair it with the Age of Aquaria gold earrings to make sure you're the brightest star this Christmas.
Diamond Shooting Star Pendant 9ct Yellow Gold 
€750,00
 As we embrace this self-appreciation Christmas, another piece worth our adoration is MIRIAM WADE's Le Cheile Pendant. This dainty linked pendant is made to symbolise an unbreakable bond of love. What better way to remind us that the love we give to ourselves is the most important love of all.
Le Cheile Pendant Small Gold €340,00
 For something extra dreamy, we're looking to Aud's At Piece moon shaped pendant which features exposed sculpted and textured quartz. As timeless as the moon and stars, this necklace is a beautiful wear everyday and keep forever piece.
At Piece Pendant 9 Carat Yellow Gold €760,00
 SARAH GUNN's Textured Metal & Black Etched Cuff is part of her Skin Collection which celebrates the beauty of imperfections that develop through a life well lived. This elegantly curved cuff is light and comfortable to wear and can be gently adjusted to fit any wrist size.
Skin Textured Gold & Black Etched Cuff - Wide €300,00
 GRACE MINNOCK's evocative 'Lost' locket necklace expresses the concept of finding forgiveness in the past. Grace's unusual and unique pendant is symbolic of acceptance and beauty of one's life journey.
Complete In Incompletion 'Lost' Locket Necklace €354,00
For something truly special, this stunning Clio statement necklace from GALLARDO AND BLAINE will be sure to catch the light for those who want to shine this Christmas. The rich labradorite gemstones set on curling silver will definitely get you noticed.
Clio Necklace Large in labradorite €319,00
Reminding us to share our light with the world, The Golden Hour Pendant from Sandra Hartwieg is inspired by the 'golden hour', just after dawn and before sunset that lights up the world with a warm glow. This beautiful piece features two concentric sterling silver circles which surround a gold textured centre.
The Golden Hour Pendant Large €230,00
So if letters to Santa, dropping hints, crossing our fingers and toes hasn't landed you that special jewellery gift yet, maybe it's time to spoil yourself and make sure this Christmas you'll get exactly what you want.
Shop with The Collective online or in store and let us help you take some time this Christmas to celebrate you. 
Collection 2019
Sale 70% Off
Title for image