Spooky Season Is Here: Shop our Top Picks To Get You In The Mood
Posted by THE COLLECTIVE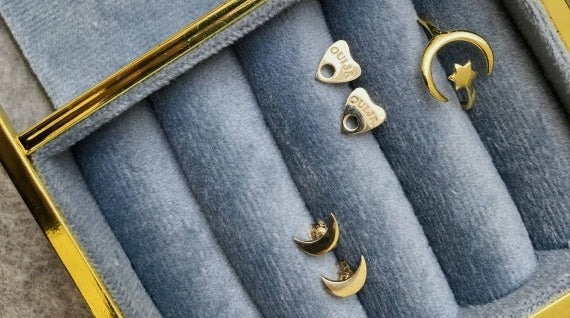 Cool, crisp mornings, pumpkin spiced lattes and getting all cosied up are firm favourite features on the Autumn agenda but there's no denying that Halloween is the show stopping event when it comes to spooky season. And while scary costumes and fancy dress may not be your thing, there's no better time to showcase your iconic style. If the spooky vibes haven't descended on you just yet, these products will soon help you get in the mood. 
From the Ouija earrings and Memento Mori Skull Pendant from Cosmic Boulevard to Aud's At Piece Moon Pendant inspired by the beautiful rock formations found on Ireland's Hook Head, each of these pieces tells a story to inspire the wearer and last a lifetime, seeing you through spooky season and beyond for years to come.
Take the Cosmic Boulevard Memento Mori Skull Pendant as an example, this is a piece inspired by the concept of "Remember you must die", as the English translation states. As designer, Sinead explains, "The point of this reminder isn't to be morbid or promote fear, but to inspire, motivate and clarify. The idea has been central to art, philosophy, literature, architecture and more throughout history. As Socrates says in Plato's Phaedo, 'The one aim of those who practice philosophy in the proper manner is to practice for dying and death.' 
Aud's pieces on the other hand are inspired by the power of jewellery and how the right piece makes the wearer feel, incorporating the power of nature and making a subtle statement to project to the world the inner artist in the wearer.
But listen, if you need to use Halloween as an excuse to treat yourself to one of these pieces, we're all for it. 
Silver Memento Mori Skull Pendant: €250
Until next time,
Collection 2019
Sale 70% Off
Title for image