Stunning personalised pendants from The Collective
Posted by THE COLLECTIVE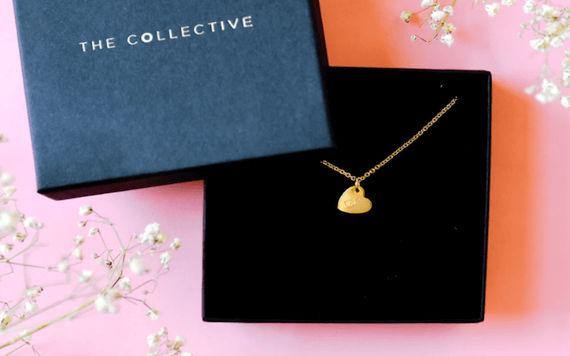 Stunning Personalised Pendants with The Collective
The Collective makes the perfect gift for any occasion. No matter what style your loved one prefers, you are sure to find something for anyone within our affordable jewellery collections.
Our personalised necklaces make delightful and elegant gifts for her in Ireland and the UK, and are available in a range of styles. Whether you are looking for a gold necklace with engraved initials, a memorable date, or would like a textured sterling silver necklace with a dazzling pendant, we can help you find the ideal personalised jewellery for yourself or a loved one, at a great price. Our personalised items are packaged in a branded box which can come with a hand written gift note, if you wish, as well as a stylish gift bag. 
Personalised Round Disk Charms
Our personalised necklaces with round disk charms are stunning accessories that can be purchased in silver or gold. The charms for your pendant are handmade with care; simply choose whether you would like your round charm to be plain or textured and whether you would like an inscription at no extra cost.
Within our personalised pendant collection, we have both small and large round disk charms available for you to purchase. We also give you an option to add a second stylish charm to your pendant. Whichever size and style you choose, our round charms look beautiful on a necklace for any lady. Find our round disk charm jewellery online and order for delivery in Ireland and the UK or click and collect in store. 
Personalised Heart Charms
Our handmade heart charm necklaces make a dainty and charming accessory that make thoughtful and sentimental gifts for family and friends. The heart charm necklaces can be purchased at a price within any budget, and include optional add-ons, including adding extra charms.
A heart charm necklace from The Collective is the perfect expression of admiration and affection, making the charm necklaces an ideal gift for a lady you would like to impress. The heart charms would also look lovely as a gift for yourself, and can be worn with any outfit. Choose from a silver or gold heart charm necklace and a plain or textured charm. We can also add an inscription of your choice completely for free to add a stunning personal touch. 
Personalised Star Charms
The star charms handmade by us at The Collective make wonderful and unique necklaces. The stars can have initials or important dates engraved on them to make truly exceptional gifts this Winter. Star symbols are associated with protection and can help guide a loved one in a great direction in life. Our star charm necklaces make exquisite personalised accessories, whether you are buying for yourself or another.
Both our gold and silver star charms are extremely popular with our customers and come with a branded gift box and bag so you do not have to worry about wrapping your gift. Purchase our star charm necklaces at an affordable price online for delivery in Ireland or the UK, alternatively you can click and collect from our Dublin store. 
Combine Beautiful Charms for Your Pendant 
Within our collection you can also create an exceptionally special gift for yourself or a loved one by combining our beautiful charms for your pendant. You can purchase a pendant with both small and large disk charms, a star and a disk charm together, or both a heart and disk charm.
All of our charms are handmade which means that we can engrave letters and numbers of your choice to create the perfect personalised jewellery. Include your name or a special date to gift as an accessory that will mean so much to someone you love and cherish. Choose from gold or silver pendants at an affordable price with us at The Collective.
Here at The Collective, we stock a huge range of amazing Irish jewellery lines at a variety of prices. Pick out beautiful accessories including earrings, necklaces, rings, and wedding rings either online or in our Dublin store. We offer free shipping on any jewellery orders online over €50,00 or you can choose to click and collect from our store at 24 Drury Street, Dublin, Ireland. Our jewellery will give you the best gifts for loved ones this Christmas so why not browse our collections online? Our personalised jewellery is brilliant and unique to give to those you care about this Christmas. 
Collection 2019
Sale 70% Off
Title for image