Valentine's Day Jewellery: Celebrate Love in all its Forms.
Posted by THE COLLECTIVE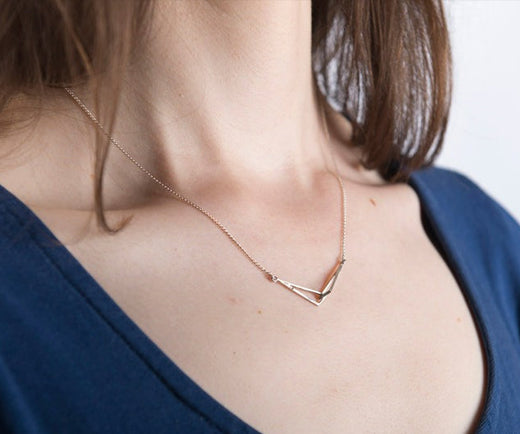 We've put together a selection of love inspired jewellery from our wonderful designers at The Collective, that will be sure to delight your loved ones.
Valentine's Day is almost upon us and with that comes the influx of heart-shaped everything into our inboxes and Instagram feeds. Long associated with kissing couples and romantic love, Valentine's Day can leave some people feeling a little excluded.
 Here at The Collective, that's something we'd like to change. We think Valentine's day should be a celebration of love in all its forms. Whether it's a dear friend, a beloved grand parent or a co-worker who makes your day brighter – Valentine's day is a time to radiate that warm glow of love to everyone.
Sometimes words are hard to put together, but jewellery speaks volumes. Katie McCay's jewellery is inspired by Ireland's ancient past, in particular Ogham script , the first written form of Gaelic. Her Ogham Treasure Rustic Earrings are sculpted in the form of the Gaelic word Grá meaning love. Grá has been celebrated in Irish songs and poetry and is still used in everyday conversations to this day. These beautiful earrings are the perfect gift for a special someone in your life and of course a special gift for yourself .
For those with a loving friendship in mind, her Anam Cara earrings are a great choice. Anam Cara, is the ancient Irish meaning of Soul Friend. Anam Cara loosely describes one's 'soulmate' and represents the union of love and loyalty between two individuals. An ideal gift for your bestie this Valentine's Day.
Another of our designers whose work celebrates those special connections we have in life is Miriam Wade. Her Le Cheile dainty linked pendant symbolises the close relationship a person has with a special person. This link represents a bond that is so special and so strong that nothing could break it.
 As we all know, true love lasts forever. And for those of you who want to show your steadfast heart, The Irish Rose Necklace from designer Andrea Mears is the way to do it.
The Irish Rose is a sweet timeless symbol of love. Real roses are ephemeral but this one lasts forever. Inspired by the beautiful pink Irish cottage roses, and by love. Andrea Mears works blends an ancient idea and geometry together, the result is imbued with positivity.
 Love is something we all have in abundance and there is more than enough to go around. We hope these special and unique pieces inspire you to show your love and appreciation for those special people in your life this Valentine's Day.
Collection 2019
Sale 70% Off
Title for image