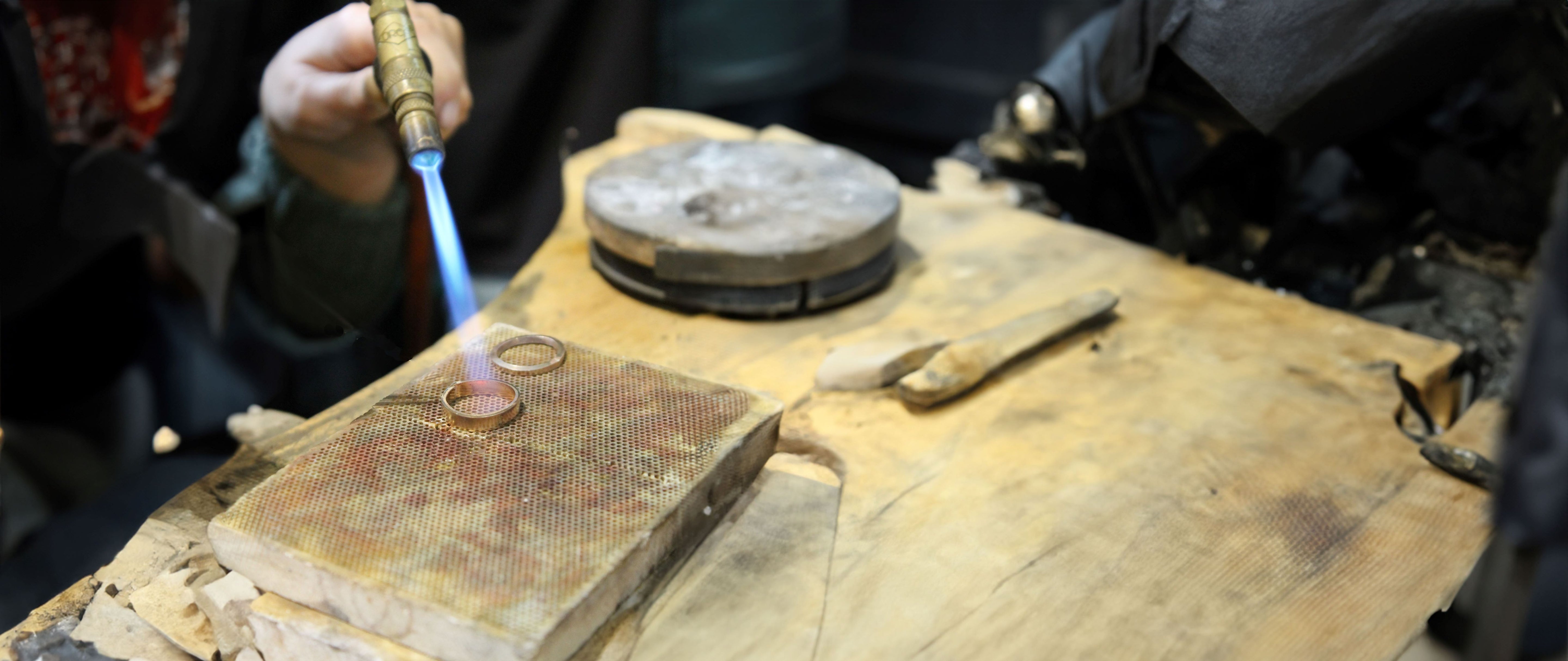 About our bespoke service
We offer our clients a bespoke service, where you can have your design brought to life by our resident goldsmith. We can remodel your old jewellery to give it a fresh new look or we can make you something entirely new from scratch. No commission is too small. Come and see our friendly creative team to discuss your ideas.
How our CAD designer can help bring your ideas to life
We have a resident CAD designer- someone who can bring your more elaborate ideas to life using computer aided design, so you can see every step of the way how your bespoke design is progressing.
When you are happy with the digital design, it will be sent off to a professional casting company who will 3D print your design in wax and then, using an ancient process called lost wax casting, they will bring your design to life in a metal of your choice.
Our deadlines for bespoke commissions
**Please note that our cut off date is the 27th of November for bespoke commissions to be made in time for Christmas & New Year. All commission enquiries received on or after this date will be placed into a waiting list for January 2024**
Free Goldsmith Consultation
We now offer a free 30 minute Goldsmith consultation so you can talk to one of our creative goldsmiths and get expert advice before deciding on the design of your piece. You can schedule your appointment by clicking the link below.

We offer in person and online consultations.
Recent Bespoke Designs
Sinead's husband came to us with an heirloom engagement ring. Sinead's mother had kept the ring, despite having been in great financial crisis for many years, raising 5 children on her own. She gave the ring to her only daughter Sinead, when she passed. For fear of losing the ring, Sinead had hidden it away for 25 years. Her husband had asked if she would like to get it made into something she could wear. She said she did but was too nervous to get involved! So just knowing that she loves organic and Celtic styles, we designed a necklace around this, using the diamonds from her ring. On being presented with it Sinead wept with happiness. Something so dear to her could now be worn and enjoyed rather than hidden away.
Ciara sent an enquiry through our Collective website to have these special cufflinks made in time for their wedding happening on the coming Friday (a week away). The cufflinks were to be sterling silver and to have her daughter's fingerprints on them. Ciara brought her daughter into us over the weekend to have her fingerprints taken and after our jeweller made the cufflinks, she was then able to engrave the fingerprint onto the top of the cufflink. Just in time for the Big Day!
Are you a House of the Dragon fan like us? Then you will love this jewellery commission that our in house CAD Designer made for a customer to give to a friend. Indra contacted us directly through our commission's email below and attached a photo of 'Daemon Targaryen' in the House of the Dragon wearing his character's famous signet ring. Indra had all the details ready to go regarding the size, metal material and the chosen letter she'd like to have on top of the signet ring and was thrilled with the outcome. 
Marzia arrived at our shop, here in the heart of Dublin City Centre, one day and produced a beautifully aquamarine heart shaped gemstone which belonged to her late mother. Our in house jeweller, Ciara, spoke with her briefly and was able to get all the details necessary for turning that aquamarine into a lovely shiny silver ring for Marzia to wear. Marzia was delighted with the finished piece!
Declan came into the shop one day with a large New Zealand Brooch that he owned. He requested to have a replica made of it but as a small lapel pin so he can give it to his son. Additionally, he enquired about having two other small lapel pins made that depict the Trinity College Bell Tower. These were to be gifts for two of his children who were graduating from Trinity College in the following weeks. 
Patrick came up with the idea of having a 9ct gold pendant made for his granddaughter depicting her initial on the front and their beautiful family crest on the back. He popped in for his free 30 minute consultation to discuss the fine details (down to the chain and bail shape) so our jeweller was able to make exactly what he envisioned! 
---
Feel free to contact us with any questions you may have. 
**Please note that our cut off date is Monday the 27th of November for bespoke commissions to be made in time for this Christmas & New Year. All commission enquiries received on or after this date will be placed into a waiting list for January 2024**

Email: commissions@thecollectivedublin.ie
Phone: +353 1 675 1818